Design
and Technology
Navisyo Home
Wake up by the water in the home of your dreams – beautiful, light and airy. Spend the day relaxing and enjoying the scenery, then have dinner with friends in the spacious dining area or enjoy sunbathing on the top of your terrace.
The Navisyo Home is a premium quality motorized home boat, with a sleek and sophisticated modern build – exclusively handcrafted by our exclusive avant-garde manufacturer and partner. These modern and stylish self-catering units, available in 2 or 3 bedroom (in Q4, 2024) configurations, can comfortably accommodate up to 4-6 adults and are designed to promote fast and efficient housekeeping and rental turnovers, unlike anything on the market. In our current 2 bedroom configuration, we also offer an option to convert the bedroom into a convertible sofa bed with a desk and a chair.
Navisyo homes are conceived for practical and comfortable year round living on the water, with bright and cozy interior spaces as well as optimized outdoor views and decks. Each Navisyo home boat is equipped with state of the art equipment and technology, as well as all the facilities and amenities one can find in a traditional home.
Our top manufacturing designers have been working on an electric prototype and we are proud to announce that they are in the final design phase of the Navisyo V.08 model which will have an electric propulsion, photovoltaic solar panels and batteries. The first electric units are expected to be available for delivery in 2024.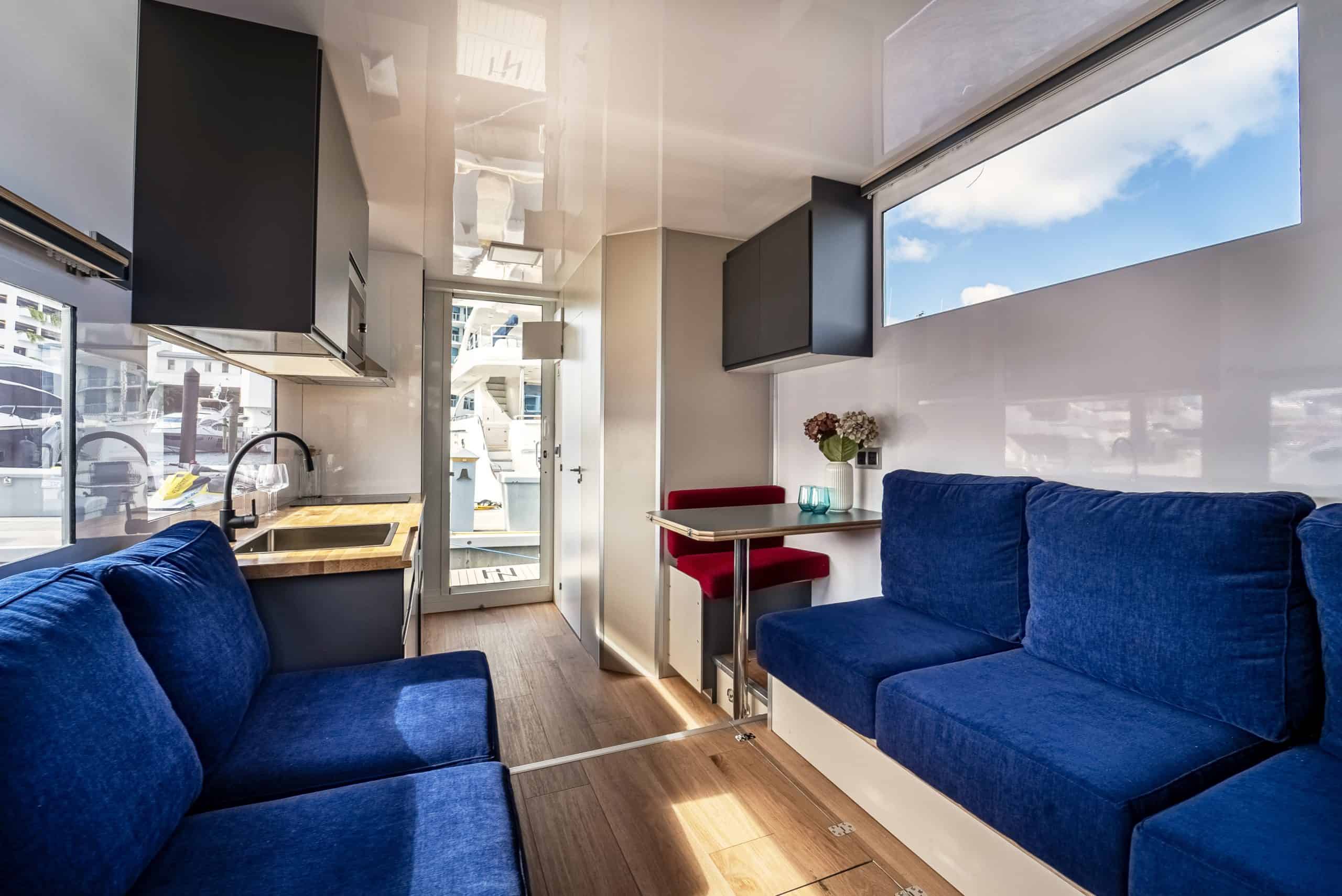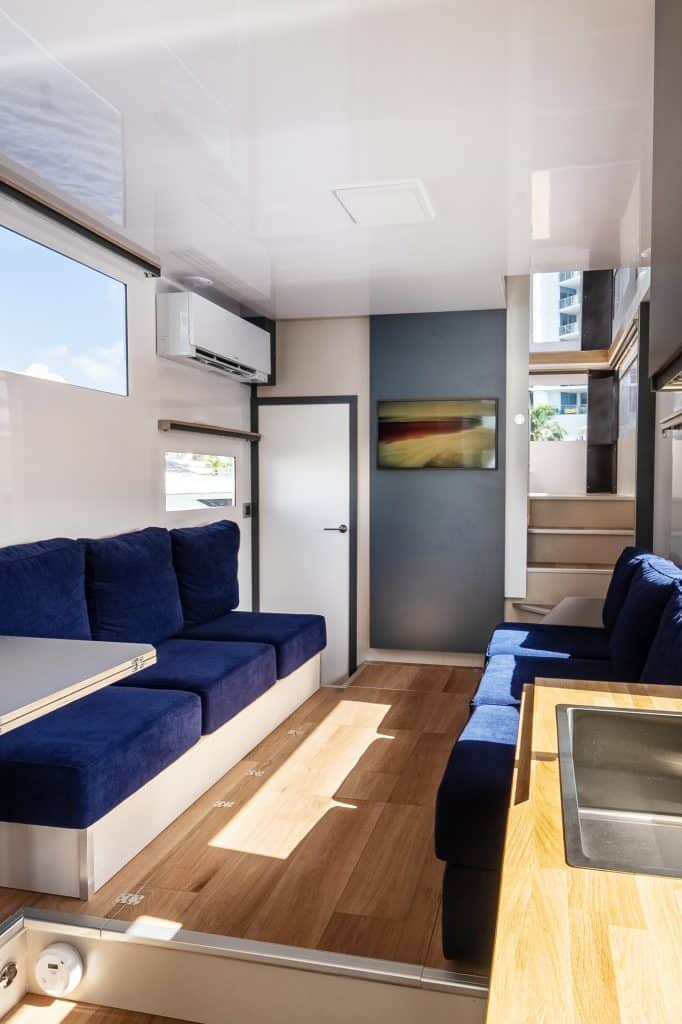 Living and Dining room
• Folding laminate table (oak effect) with capacity for 6 people
• Folding seat and two stools
• Six modular sofas
• Climalit glass side windows
• 32" LED TV
• Audio equipment with Bluetooth connection and speakers
• USB and USB-C connections + universal plugs
• Roller shades
• A/C with remote control (reverse hot and cold)
• General lighting composed of LED ceiling lights
• GRP floors laminated with wood-like vinyl
Kitchen
• Worktop finished in natural wood
• Rectangular stainless steel sink with a mixer tap for hot /cold water
• Microwave oven
• Refrigerator with freezer
• Induction hob, 2 cooking zones
• Stainless steel extractor hood
• Climalit glass window above the sink
• Wall and base units with drawers
• GRP floors laminated with wood-like vinyl
• Color variations – anthracite gray, matte white, glossy white, matte wooden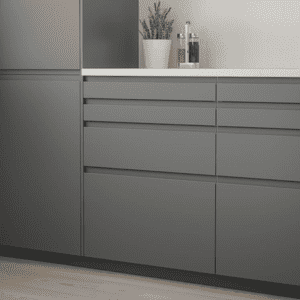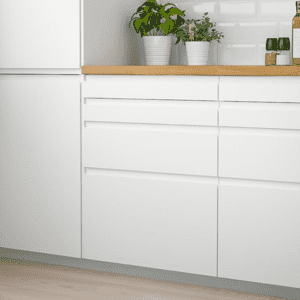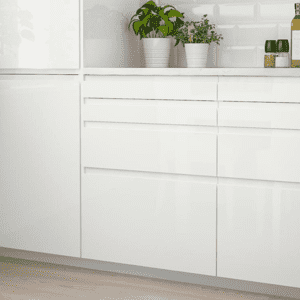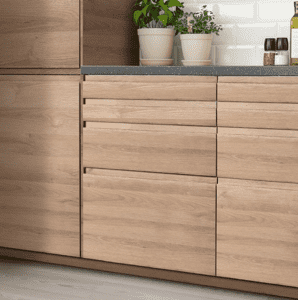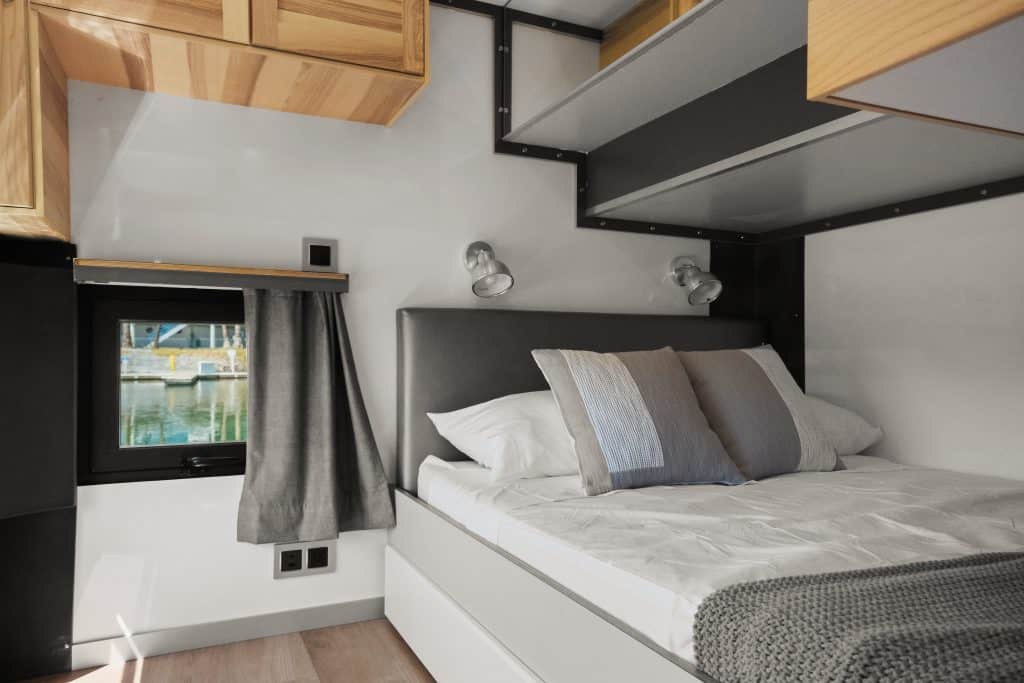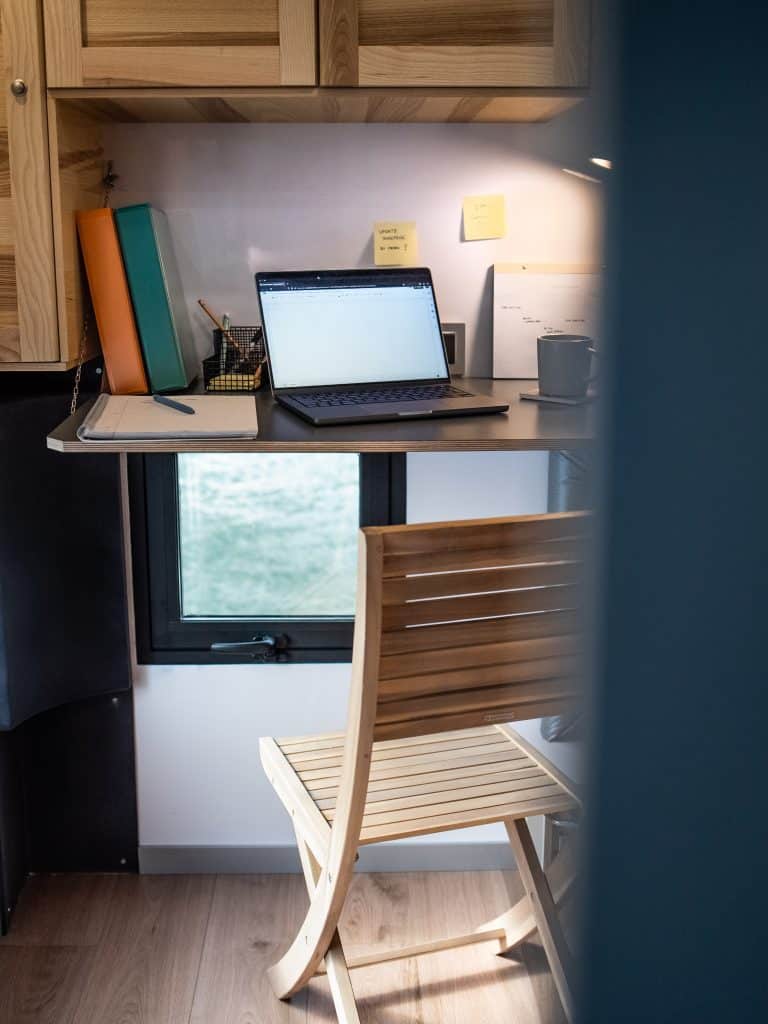 Lower deck cabin
• Double bed 6 ft 7" x 4 ft 7" with mattress mounted on slatted bed base
• Large storage drawers in the lower part of the bed
• Closet with clothes rack
• 2 closets with shelves
• Climalit side and front windows (PVC)
• USB and USB-C connections + universal plugs
• Hinged access door to the cabin
• Roller shades
• General lighting consisting of LED ceiling lights
• GRP floors laminated with wood-like vinyl
• Option to convert into an office with a sofa bed
Higher deck cabin
• Height 6 ft 7 ″
• Double bed 6 ft 7" x 4 ft 7" with mattress mounted on slatted bed base
• Closet with clothes rack
• 2 closets with shelves
• Climalit side and front windows (PVC)
• USB and USB-C connections + universal plugs
• Sliding access door to cabin
• Stainless steel folding ladder with pneumatic retainers for access to the deck
• Sliding upper hatch cover
• Roller shades
• General lighting consisting of LED ceiling lights
• GRP flooring laminated with wood-like vinyl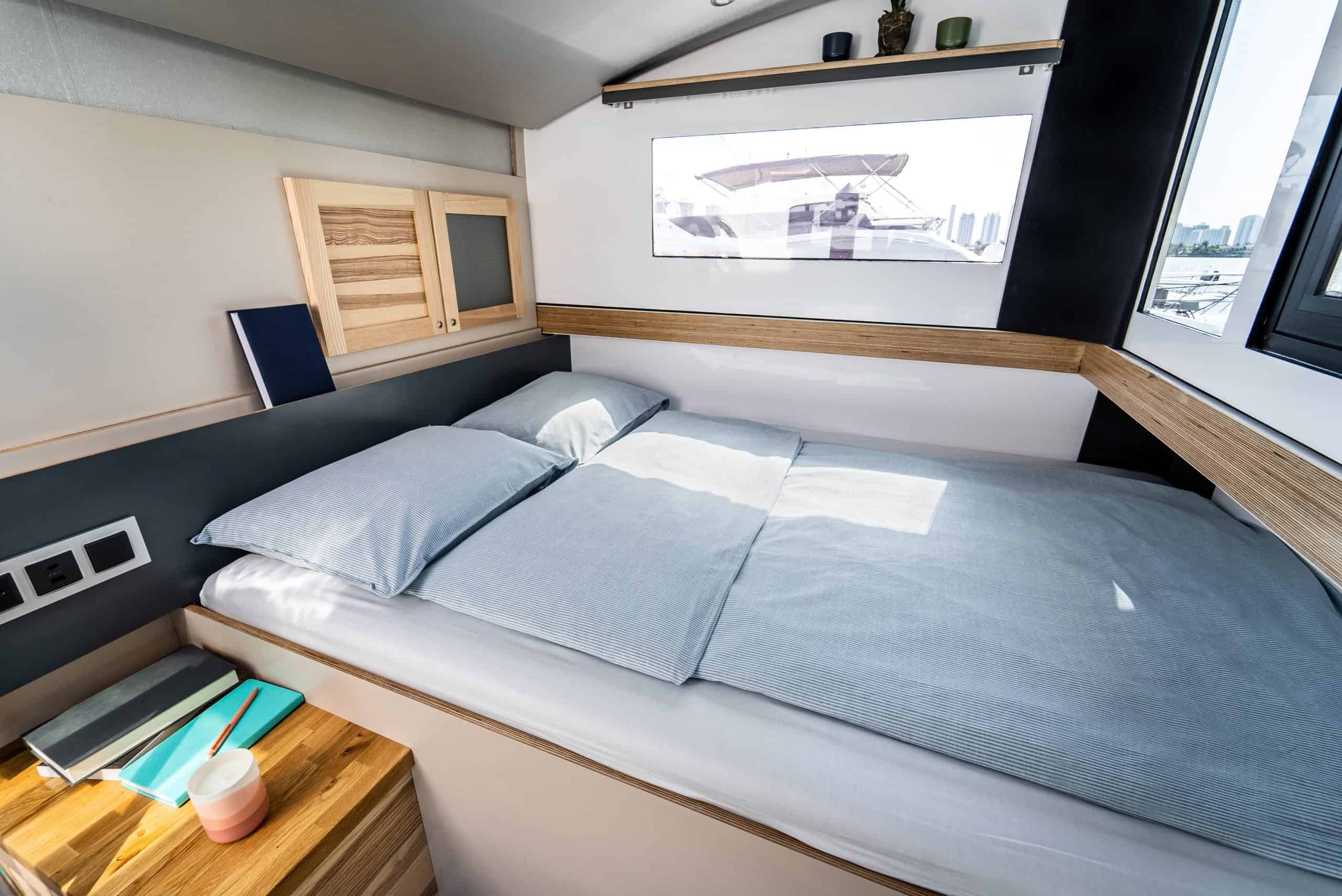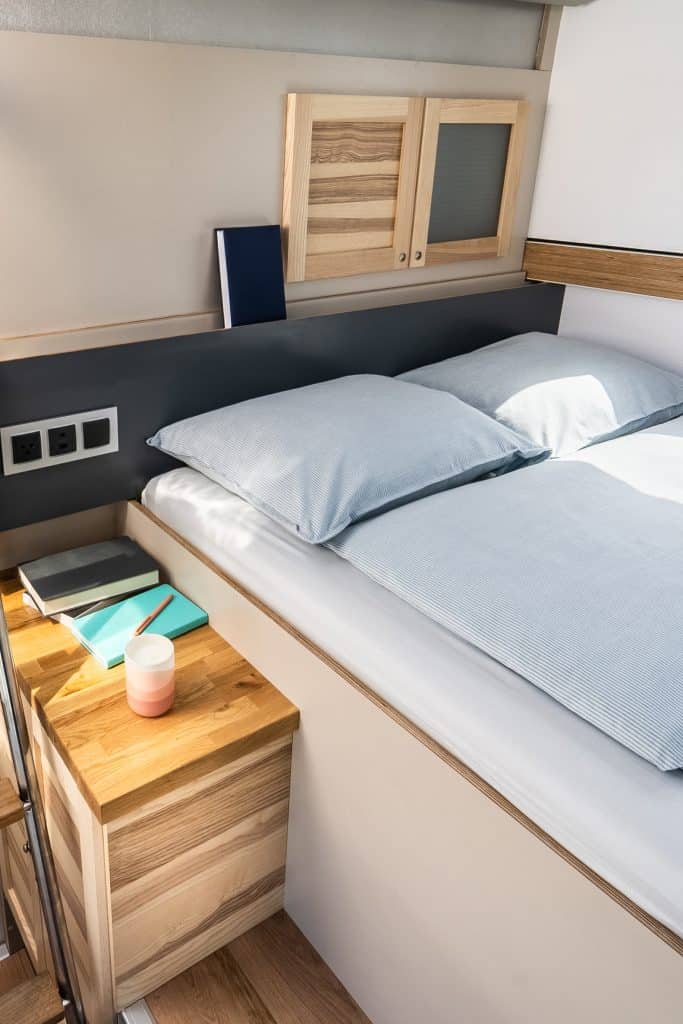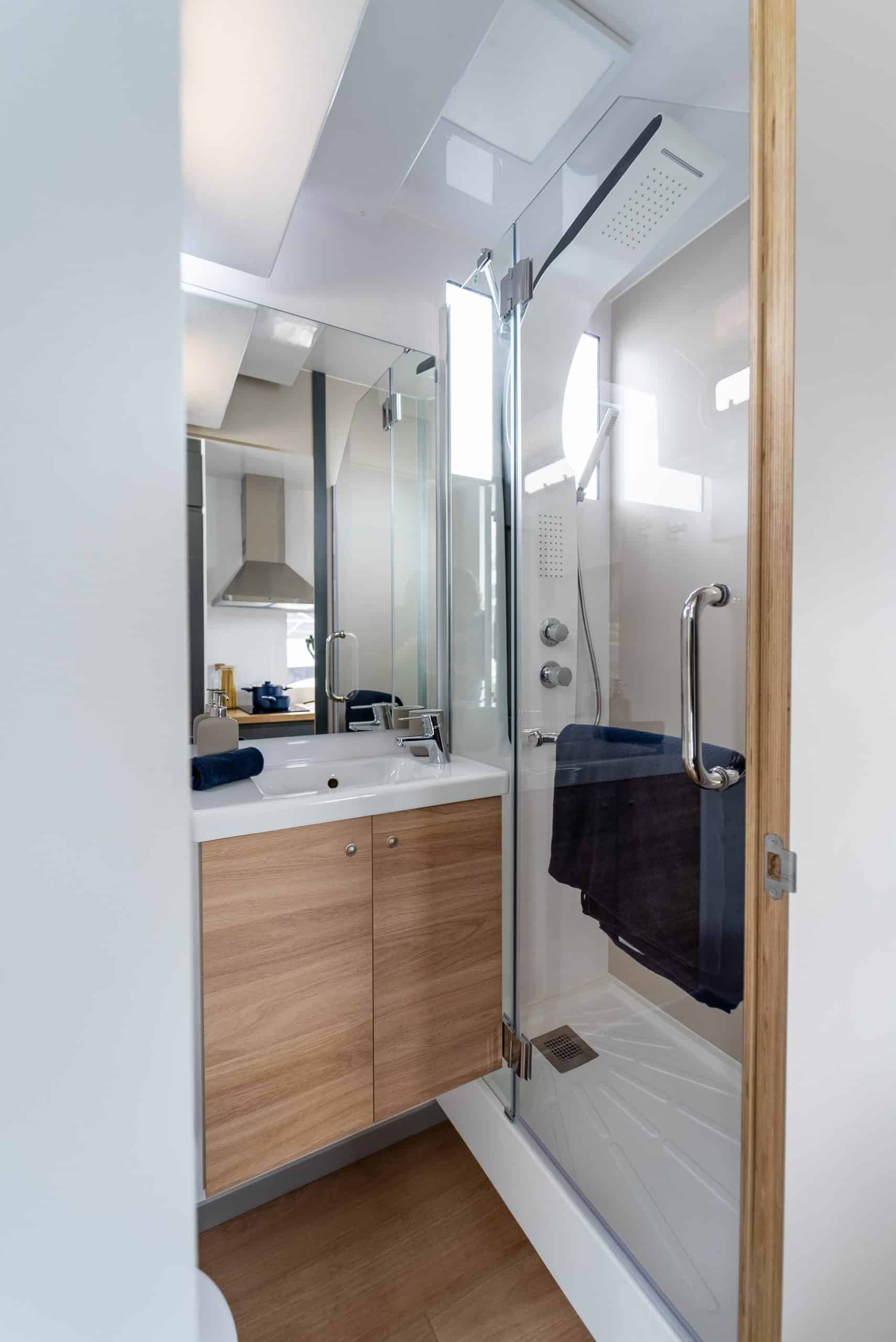 Bathroom
•  Electric marine toilet with macerator
• Ceramic washbasin with mixer tap for hot and cold water
•  Toilet cabinet with two drawers and mirror
• Recessed shower tray
•  Mixer shower faucet with hot and cold water mixer
•  Tempered glass sliding bathroom screen with aluminimum frames
•  Opening porthole
•  Toilet accessories
•  Walls and ceiling made of GRP
Lower deck storerooms
Two storage areas with locks, in living room – capacity of up to 79.3 gallons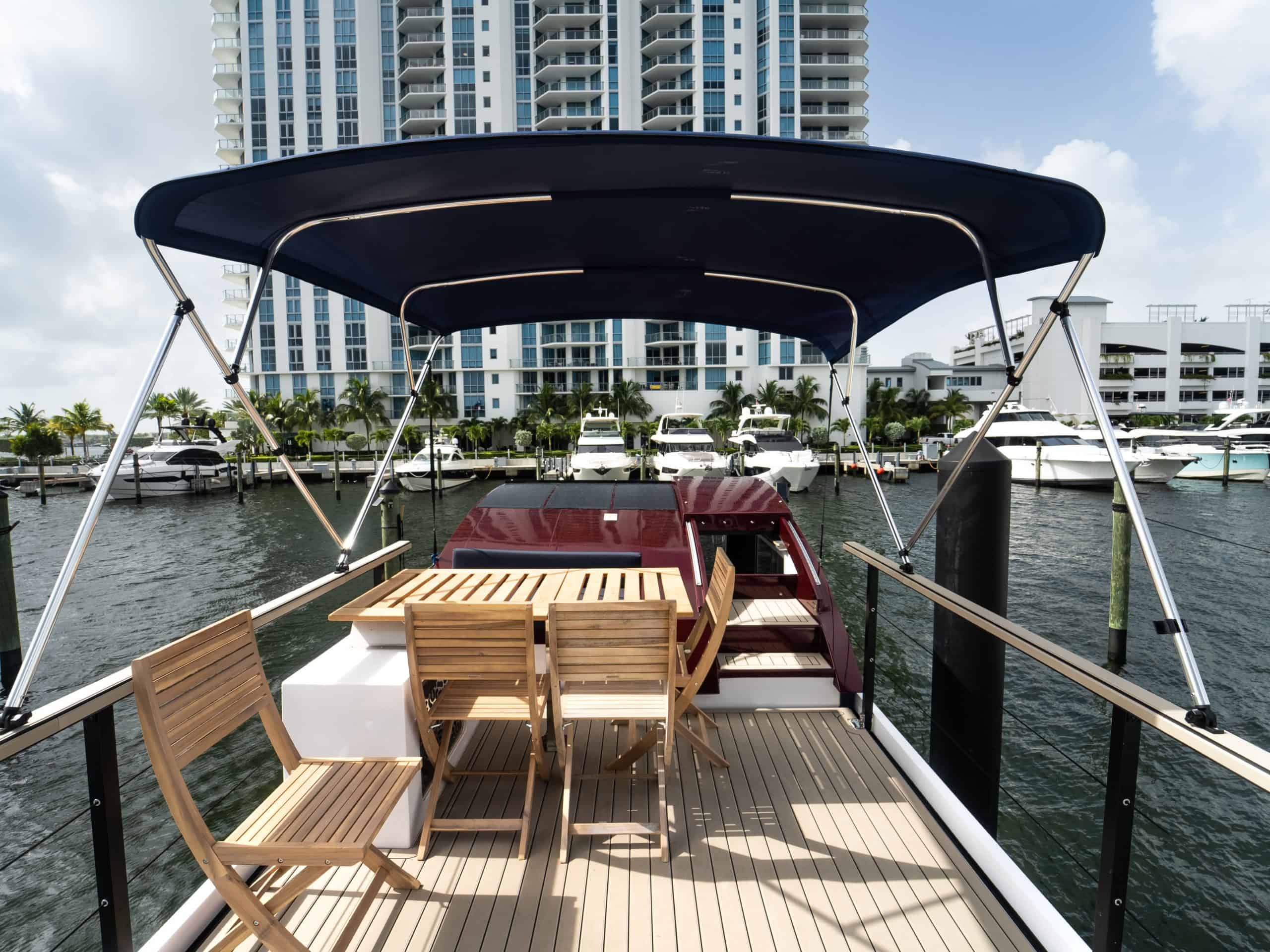 Terrace
• Outdoor seating for 6 people
• Folding table made of burma teak wood
• Cold water shower
• Access from stern platform spiral staircase with burma teak steps
• Anodized aluminum railings
• Bimini top with aluminium structure (optional)
• Trap door for security measures is installed above the staircase on the flybridge
Top view
Technical
Floor Plans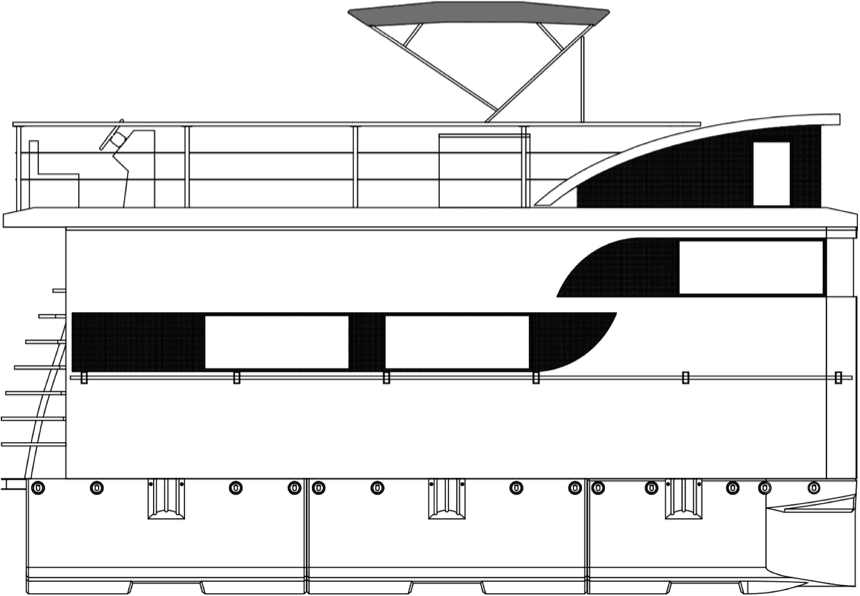 Side view A
Side view B

Lower deck cabin

Higher deck cabin
Technical
details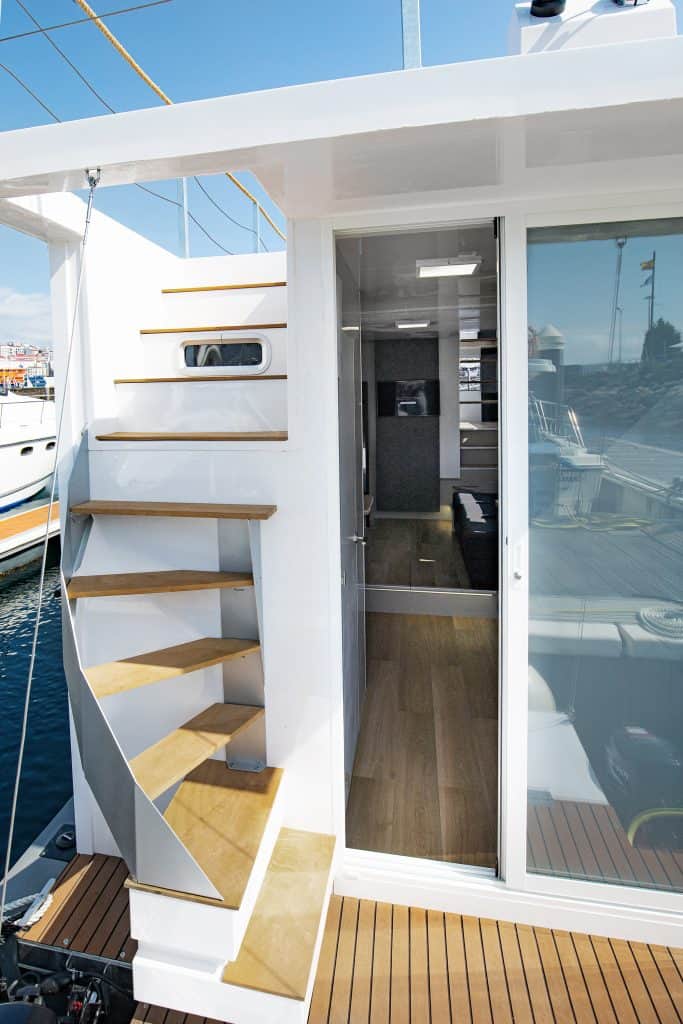 characteristics
• Length: 28 ft
• Beam: 9 ft 10 "
• Draft: 1 ft 8 "
• Lightweight displacement: 11023 lbs
• Capacity: 4 + 2 people
• Construction material: GRP
• Certification CE: D8
Electricity
• 120 VAC and 12/24 VDC circuit
• Electric breaker system
• 120 VAC port
• LED lighting in the whole unit
• 60 Ah engine starter battery
• 50 Amp shore power
Propulsion
• Two 15/20 hp outboard with electric start
• Mechanical direction on terrace for control
• Two fuel tank level indicators
• Two fuel tanks with 10.6 gallons of capacity
Plumbing
• Electric water heater with a capacity of 21.1 gallons
• Grey water tanks with a total of 26.4 gallons of capacity
• Black water tanks with a total of 58 gallons of capacity
Let's get
in touch
Michele Barlavi
[email protected]
646-246-0000
www.barlaviny.com